Much as I cherish my 1st award, it is time to pass it on to someone who I think is a Kick-Ass blogger!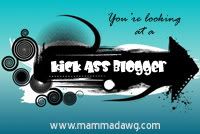 But first here are the rules:
Do you know any bloggers that kick ass?Maybe they've got incredible, original content. Or they're overflowing with creativity. Is it someone that helps you become a better blogger? Or a bloggy friend you know you can count on? Or maybe it's someone who simply inspires you to be a better person... or someone else who sends you to the floor, laughing your ass off.Whatever the reason may be, I'm sure you know at least a couple of bloggers that kick ass. Well... why not tell 'em so?
LOVE ON 'EM
Choose 5 bloggers that you feel are "Kick Ass Bloggers"
Let 'em know in your post or via email, twitter or blog comments that they've received an award . Share the love and link back to both the person who awarded you and back to www.mammadawg.com . Hop on back to the Kick Ass Blogger Club HQ to sign Mr. Linky then pass it on!
Here are my Top picks in no particular order:
Potpourri - You get this award because you are a filipina like me and I love the fact that you are in Sweden and yet we exchange comments like we're in the same time zone. You also love my jewerly which warms my heart.
Jonarablu
- You get this award because I liked you from the first time I found your blog. You have that sweetness and caring persona about you and has been very helpful to me with my jewelry questions. Most of all, I admire your jewelries a lot!
Filipinamomindenmark - You get this award because your blog design is so cool! I love it! I also like the fact that you are in Denmark and for being so thoughtful dropping me a note before you left for the Philippines for a vacation.
Tammy - You get this award because you have been a very wonderful bloggy friend. So supportive and so helpful. Most of all I would like to believe that we have established a friendship beyond our blogs. POW!
Beth - You get this award because I admire you for being a superwoman. 3 kids,2 Ragdoll cats, a Rat Terrier, a Doberman, and a tortoise and still find time to do other things including jewelry making! I love it that you also live close to the beach. You got it all!
There you go ladies. You deserve it! Thank you for your friendships. Speech, Speech!!!

Any Thoughts ?